Why Is My Toilet Water Pink &Prevent Toilet Ring Stains 2023
When a pinkish or dark gray film appears on moist surfaces, it is usually a result of airborne bacteria. A ring of this film can be seen around the toilet bowl's water line around shower heads, shower curtains, bathtubs, sink drains, tiles and grout, or around shower doors or curtains.
In an environment that is moist and high in phosphates, these bacteria can be found in soil, mulch, dust and surface waters. When temperatures and humidity are higher in the summer months and especially if windows are left open for extended periods of time, the problem occurs more frequently.
What Causes Pink Stains in Toilet Bowl
The bacteria Serratia marcescens present naturally found in the environment causes pink stains in bathtubs, toilets and showers. The bacteria lives on moist surfaces and is airborne. But first let's discuss the main causes of pink strains.
What Causes Pink Stains?
Pink mold feeds off soap scum and organic matter in moist areas around your bathroom where bacteria spores have most likely found their way into your humid bathroom. It indicates that the colony has grown to a considerable size due to the bacterial growth which causes the pink to red pigment.
The most common reason for pink stains is water as well as improper cleaning. It feeds on organic materials in the soil and is naturally airborne. It is difficult to remove stains caused by pink mold bacteria on white surfaces. It thrives in humid, moist environments where it can grow exponentially by feeding on organic material.
You can also find these pink stains on shower curtains especially if they are made of natural fibers like cotton or wool. You'll find pink mold growing on your shower walls, sink drains and toilet tank if you have moist and grimy tub drains and it is also filled with organic matter.
Related Toipic: What Are Black Mold Causues
How to Remove the Pink Ring in a Toilet Bowl
A stiff-bristled brush and chlorine bleach are the best tools to remove pink rings in toilet bowls. When you try to remove the residue with a scouring pad or metal scrubber, you are just scratching the bowl which will cause more problems in the future. You can prevent bacteria from growing in the bowl by keeping it clean frequently.
How Can I Get Rid of the Stains?
Serratia cannot be completely eradicated once it has been established.  Nevertheless, the best way to control the organism is to clean thoroughly and disinfect the area with chlorine bleach on a regular basis.
Be careful when using abrasives so as not to scratch surfaces or fixtures which will allow bacteria to grow.
Pet water bowls should be cleaned in the same way. After 15-20 minutes, soak the bowl in bleach solution and thoroughly rinse it.
Spray or mist a product that contains bleach or another disinfectant over bathtubs, shower walls, curtains and areas around drains, then wipe them dry.
Maintain a clean toilet bowl on a regular basis. Adding 14 cups of bleach to the toilet tank, allowing it to sit for 15-20 minutes and then flushing it several times will ensure the disinfectant is fully rinsed. The rubber seals and valves inside the toilet tank will be damaged if bleach is left in the tank for prolonged periods of time.
People Also Read: Why The Color Of Toilet Is Blue 
Necessary Precaution
Protect yourself before applying any product on the toilet bowl to remove the pink strains. Never ever do any kind of negligence that causes bigger problems for your health. Follow the following necessary health measurements.
Never use any product with your naked hands. If the surface is hard to reach, try to use any old or new toothbrush.
Use a proper gloves to save your skin from damage
Use the chemical glasses to protect your eye-sight
Conclusion
The best way to clean pink strain is to use the plastic-bristle brush with chlorine bleach but don't forget to take some necessary measurements like wear the gloves and glass to protect your skin and eyes while applying it. If the surface is hard and narrow, we suggest using any toothbrush so that it can easily remove the pink strains from there.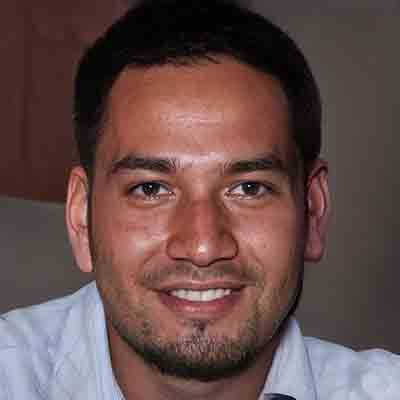 Hello, I'm James Christopher, and I've spent the better part of the last decade immersed in the world of plumbing, specifically focusing on toilets and their intricacies. My journey into the world of plumbing was filled with twists, turns, and a healthy dose of curiosity.
I vividly recall my humble beginnings as an apprentice in a small plumbing firm. The first time I laid my hands on a wrench and peered into the depths of a toilet tank, I was awed and a little apprehensive. But that sense of curiosity drove me to learn more about these seemingly mundane fixtures.
Over the years, I've had the privilege of working on countless toilet installations and repairs. I've seen everything from the oldest, most stubborn toilets that seemed like relics from another era to the sleek, modern models with all their advanced features. Each toilet had its unique personality and set of quirks, and it was my job to decode their mysteries.
Toilets are not the most glamorous topic of conversation, but they are essential to our daily lives. We often take a well-functioning toilet for granted, but when things go awry, it can be a real headache. That's where my expertise comes into play.
Through my years of hands-on experience, I've encountered many toilet problems, from the mundane to the downright perplexing. I've tackled insurmountable clogs, leaks that left homeowners scratching their heads, and flushing issues that defied logic. But I've learned something new with each challenge and honed my skills.
I'm excited to share my knowledge and insights with you through the blog https://toiletsadviser.com/. Whether you're in the market for a new toilet and need guidance on choosing the right one, or you're facing a frustrating toilet problem that needs fixing, I'm here to help.
At toiletsadviser, I'll draw from real-world experiences to provide practical advice and solutions. I'll demystify the world of toilets, making it easier for you to understand how they work and how to keep them in tip-top shape. I've covered you, from reviews of the latest toilet models to step-by-step troubleshooting guides.