Best Skirted Toilets (Best Concealed Trapway Toilets) 2023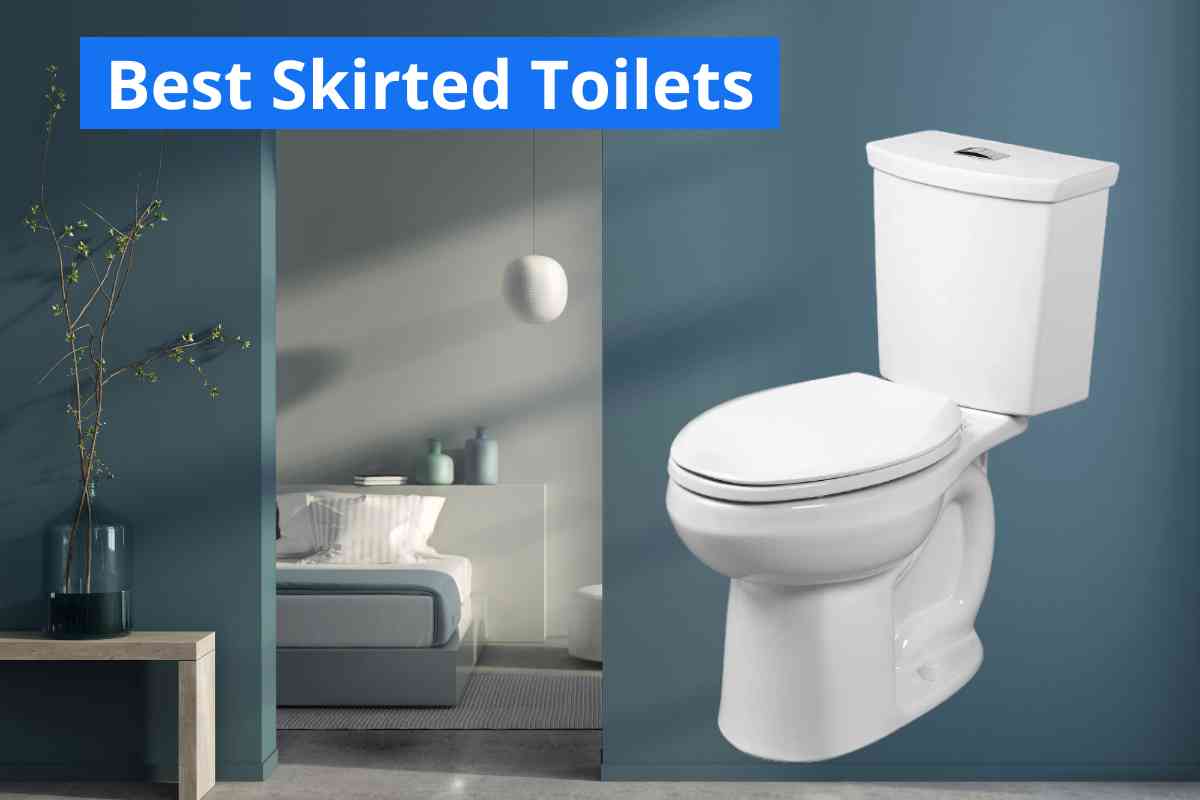 Are you tired of traditional toilets that lack style and sophistication? Best skirted toilets are the perfect alternative to traditional toilets where function meets fashion. These elegant and user-friendly toilets redefine the way you experience comfort and cleanliness.
With their sleek design and seamless integration, skirted toilets bring a touch of modernity to your bathroom while ensuring effortless maintenance.
What Is A Skirted Toilet?
A skirted toilet, also known as a concealed trapway toilet, is a type of toilet design where the trapway (the channel through which waste and water are flushed) is hidden or concealed. Unlike traditional toilets with exposed trapways, skirted toilets have a smooth and sleek exterior without visible curves, grooves, or crevices.
In a skirted toilet, the trapway is concealed behind a smooth ceramic surface that seamlessly blends with the rest of the toilet bowl. This design not only enhances the aesthetic appeal of the toilet but also provides several practical benefits.
Benefits of Skirted toilets
Skirted toilets offer several benefits that make them a popular choice for homeowners. Here are the key advantages of skirted toilets.
Skirted toilets have a sleek and seamless appearance. The concealed trapway eliminates visible curves, grooves, and crevices, creating a smooth and streamlined exterior.
This clean and modern design adds a touch of elegance to the bathroom, making it visually appealing and complementing various interior styles.
The smooth surface of skirted toilets makes cleaning a breeze. Without the exposed trapway, there are no hard-to-reach areas where dirt, debris, or bacteria can accumulate.
Wiping down the exterior is straightforward, and there are fewer contours to scrub. It saves time and effort and promotes better hygiene by minimizing potential germ-harboring spots.
The concealed trapway of skirted toilets reduces the chances of dirt or waste particles getting trapped. This design feature, coupled with the ease of cleaning, helps maintain a more hygienic environment in the bathroom.
With fewer hidden spaces for bacteria or odors to develop, skirted toilets contribute to a cleaner and fresher bathroom experience.
Some skirted toilets incorporate advanced flushing technologies that enhance water efficiency. These toilets often feature optimized flushing systems, such as dual-flush options or powerful water jets, effectively removing waste using less water.
The streamlined flow through the concealed trapway also reduces the likelihood of clogs, promoting efficient water usage and potentially saving on water bills.
Skirted toilets come in various styles, sizes, and finishes, allowing homeowners to find a model that suits their preferences and bathroom layout.
Whether you prefer a classic or contemporary design, numerous options are available to match your aesthetic vision and create a cohesive bathroom space.
Skirted toilets can contribute to a quieter bathroom environment. The concealed trapway and smooth closing of the toilet seat help minimize noise, preventing sudden slamming sounds that can disturb household members, especially during nighttime use.
Best Skirted Toilets for 2023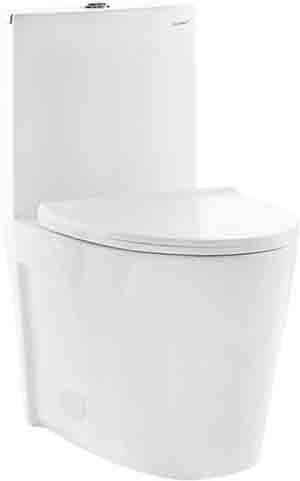 Quick Features
Manufacturing material Ceramic
Soft closing seat
120 lbs weight
Dual flushing
A perfect blend of modern design and functionality, the Swiss Madison Well Made Forever SM-1T254 St. Tropez one-piece skirted toilet measures 27 x 15.12 x 31.18 inches. This skirted toilet fits seamlessly into any bathroom space and effortlessly complements various styles.
The fully skirted trapway is a fantastic feature when it comes to cleaning. No more hard-to-reach nooks and crannies, as the smooth surface ensures easy maintenance, keeping your bathroom sparkling clean. Not only does this toilet excel in functionality, but it also boasts a sleek and eye-catching modern design. The glossy white finish adds a touch of elegance to your bathroom, creating a fresh and inviting ambiance.
You can bid farewell to annoying slamming sounds with a soft closing seat. You can enjoy a quiet, gentle closing experience, enhancing comfort and peace of mind.
The St. Tropez toilet features a dual flush mechanism, allowing you to choose between partial and full flush options (0.8/1.28 gallons per flush). It helps save water and makes you environmentally and financially conscious without compromising performance.
Maintenance is super easy with the quick-release matte chrome hinges. No tools are required to unlatch the seat from the toilet, enabling easy removal for convenient cleaning.
Weighing 120 pounds and boasting an elongated shape, this floor-mounted skirted toilet provides stability and enhanced comfort. Backed by a 1-year limited warranty, the St. Tropez toilet is a reliable choice that guarantees quality and peace of mind.
Installation is effortless, with special holes designed to reach the bolts. The package comes with bolt caps, a wax ring, and all the necessary installation hardware, ensuring a hassle-free setup process.
Pros
Fully skirted trapway
Soft closing seat
Special holes to reach the bolts
Sleek and eye-appealing modern design
1 Year warranty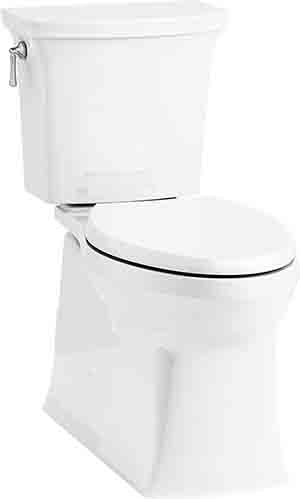 Quick Features
Manufacturing material Vitreous China
Comfort height
2 lbs weight
Revolution 360 swirl flushing technology
A remarkable two-piece skirted toilet that combines outstanding performance with exceptional comfort, KOHLER 3814-0 Corbelle Comfort Height(R) Toilet is designed with your needs in mind.
The elongated bowl with a skirted trapway provides additional room and comfort, ensuring a pleasant experience every time you use it. The Comfort Height feature adds to the convenience, offering chair-height seating that makes sitting down and standing up a breeze for most adults.
Cleaning becomes a breeze with the Skirted Trapway, eliminating hard-to-reach areas and simplifying maintenance.
Equipped with Revolution 360 swirl flushing technology, this toilet generates a violent swirling motion that keeps the bowl cleaner for longer. You will surely experience a cleaner and fresher bathroom with every flush.
The durable canister design is great when it comes to performance. With 90% less exposed seal material than a traditional 3″ flapper, you can expect leak-free performance and peace of mind.
The package includes the Toilet Tank, Toilet Bowl, Trip Lever, Tank Cover, and the ReadyLock Installation System, ensuring a hassle-free setup process. Please note that the toilet seat is not included, giving you the freedom to choose the perfect seat to complement your style.
Backed by a 1-year limited warranty, the KOHLER 3814-0 Corbelle Comfort Height(R) Toilet offers durability and reliability that you can count on.
Pros
Revolution 360 swirl flushing technology
Comfortable chair-height seating
Durable canister design
Easy to clean
Comes with Tank Cover and ReadyLock Installation System
Quick Features
Manufacturing material Ceramic
Highly Efficient Tornado Flush
5 lbs weight
Slow-closing lightweight seat
The DeerValley DV-1F52828 Apex Toilet is a highly efficient and reliable choice for any bathroom. Its impressive features and sleek design offer a superior experience in terms of performance and convenience.
One of its standout features is the Highly Efficient Tornado Flush system. With a high-efficiency 1.28GPF for a full flush, this toilet ensures a powerful and clog-free flush every time. The fully glazed flush system guarantees a quiet operation, eliminating any worries about leaks or problems.
It has a fully skirted design that not only adds a touch of elegance to your bathroom but also makes cleaning a breeze. The absence of corners and grooves makes reaching and cleaning every nook and cranny incredibly easy, ensuring a hygienic and pristine toilet.
With its one-piece design, this fully skirted toilet offers easier maintenance than traditional two-piece toilets. The elongated bowl adds to the toilet's comfort and overall aesthetic appeal.
The single flush system with a simple side-press knob allows you to adjust the flushing process according to your preference.
Installation is made hassle-free with the inclusion of a seat and wax ring. Everything you need for a smooth installation process is conveniently included in the package.
DeerValley stands behind the quality of its toilets with a one-year limited warranty on the flushing mechanism and soft-closing toilet seat lid. Additionally, their lifetime after-sale service ensures that you receive prompt assistance and support whenever needed. Thanks to the slow-closing lightweight seat, it adds convenience and prevents any loud slamming noises.
The quick-release matte chrome hinges allow for easy removal and cleaning of the seat without the need for tools.
With its ADA-compliant height and chair-height seating, this toilet offers easy accessibility and comfort for most adults. The standard left-hand trip lever ensures intuitive operation.
Measuring approximately 17.5″ from the floor to the seat, with a 12-inch rough-in size and a 2-inch trapway, the DeerValley Apex Toilet provides optimal dimensions for a seamless installation.
Pros
Quick-release matte chrome hinges
Comfortable chair-height seating
Durable slow-closing seat
Standard left-hand trip lever
Lifetime after-sale service & Limited lifetime warranty
Quick Features
Manufacturing material Vitreous China
Single Flushing technology
75 lbs weight
Slow-closing seat with Lid
The Cadet Chair-Height Round-Front Skirted Toilet from American Standard offers a compelling package of comfort, efficiency, and style. Backed by 140 years of experience, this toilet by American Standard offers features to ensure optimal performance to make toilet clog free, appealing and hygienic.
One great feature of the Cadet Chair-Height Toilet is its ideal comfort. The chair-height design (17 inches) elevates the seating position which makes this round skirted toilet more comfortable and accessible for individuals of all ages. The Cadet Toilet has a concealed trapway to add a touch of elegance to your bathroom.
This smart design not only enhances the aesthetic appeal but also makes cleaning a breeze. With curves and crevices discreetly hidden, you can maintain a pristine toilet effortlessly.
There is PowerWash Rim to ensure toilet bowl is scrubbed clean with every flush. This powerful flushing system leaves no residue behind, maintaining a hygienic and sparkling toilet bowl.
The Slow-Close Seat and Lid are additional features that enhance the overall experience. The ultra quiet, slow-motion close mechanism ensures a gentle and quiet closing of the seat and lid, adding a touch of convenience and peace to your daily routine.
The high-efficiency, low-consumption nature of this toilet utilizes only 1.28 gallons per flush. It conserves water while still providing powerful performance. In fact, it saves up to 20% more water compared to regular toilets, making it an environmentally friendly choice that is WaterSense® certified.
I loved the EverClean surface for exceptional hygiene benefits. This innovative surface prevents the growth of stain and odor-causing bacteria, mold, and mildew which ensures a cleaner and fresher bathroom environment.
It features round-front design makes it one of the best skirted toilets for small bathrooms. It allows you to maximize your bathroom's functionality without compromising on style. Also, the included EZ-Install Kit makes installation hassle-free, saving you time and effort.
The lifetime warranty on chinaware is impressive, but the warranty on mechanical parts is limited to five years. The one-year warranty on the seat is also relatively short compared to some competitors.
Pros
Best for small bathrooms
Slow closing seat with lid
Powerful flushing system
Powerwash rim to keep toilet bowl clean
Comfortable chair-height design
Quick Features
Manufacturing material Ceramic
Single flushing
1 lbs weight
Comfort heat seating
A modern and sleek toilet by KOHLER, Reach comfort height toilet is made for modern bathrooms. Starting with easy-to-clean, one-piece design there are no seams or crevices which makes it effortless to maintain. Say goodbye to those hard-to-reach areas where dirt and grime tend to accumulate.
The powerful 1.28 gallons per flush (GPF) ensures efficient water usage without compromising performance. The KOHLER Aqua Piston technology releases water from 360 degrees around the bowl, providing a thorough and effective cleaning with each flush. This water-saving feature allows you to contribute to a greener environment while still enjoying a powerful and reliable toilet.
The Comfort Height seating adds approximately 2 inches to the chair-height position, making it more comfortable and accessible for individuals of all ages. This ADA-compliant feature ensures a more ergonomic and user-friendly experience, especially for those with mobility issues.
Whether you're reading a book or simply enjoying a few moments of relaxation, this toilet provides the space and comfort you need. The Reach Comfort Height Toilet's elongated bowl offers added room and comfort, making it ideal for extended periods of use.
Installation is a simple with the Ready Lock system. It eliminates the need for drilling holes. The skirted trapway attaches securely to the floor flange for a secure installation comparable to non-skirted toilets.
The small footprint of the Reach Comfort Height Toilet is perfect for those looking to save space in their bathroom. Its compact design allows you to maximize your bathroom's layout without compromising on functionality or style.
With a focus on sustainability, this toilet uses only 1.28 GPF, promoting water conservation and reducing your water bill.
By choosing the Reach Comfort Height Toilet, you contribute to a more eco-friendly lifestyle without sacrificing performance. Last but not least, KOHLER stands behind the quality of their products with a one-year limited warranty.
Pros
Compact modern design
Aqua Piston releases technology
Durable construction with one year limited warranty
Easy to clean surface
ADA complaint chair height seating
Quick Features
Manufacturing material Porcelain & Vitreous China
Single flushing
3 lbs weight
Slow closing seat
Experience the perfect balance of form and function in your classically inspired bathroom oasis with Key West Two-Piece skirted Toilet. With its exquisite details and practical features, this ADA-compliant toilet is a standout choice for appearance and functionality. One of the first things you'll notice about this toilet is its elegant and timeless design.
The two-piece construction adds a touch of simplicity and also makes installation a breeze. The Key West Toilet effortlessly blends with various bathroom styles, enhancing the overall ambiance.
Comfort is critical, and the elongated bowl of the Key West Toilet provides just that. Its ergonomic design ensures a comfortable and relaxed seating experience. Also, the slow-closing seat mechanism prevents any sudden slamming noises to make your ultra quiet night sleep comfortable.
Made from durable porcelain and finished with a smooth glazed surface, this toilet has superior manufacturing quality with effortless cleaning. The white enamel coating ensures effortless maintenance, making it a practical choice for busy households. Bid farewell to stubborn stains and enjoy a sparkling and hygienic toilet with minimal effort.
Water conservation is a priority, and the Key West Toilet is WaterSense certified to guarantee optimal water efficiency without compromising performance. With its high-efficiency design, it utilizes 20% less water than standard toilets, helping you reduce your environmental footprint while saving on water bills.
This best two piece skirted toilet features a skirted bowl with a concealed trapway, further enhancing its aesthetic appeal. This design element improves seamless and sleek appearance and also makes cleaning easier by minimizing hard-to-reach areas.
Completing the overall look is the polished chrome metal flush lever, adding a touch of sophistication and complementing the toilet's style. This tank lever is directly attached to the tank, ensuring a cohesive and seamless appearance.
With its easy installation, elongated bowl, water-saving capabilities, and durable porcelain construction, this toilet checks all the boxes for both functionality and aesthetics.
Pros
Skirted bowl with concealed trapway
Polished chrome metal flush lever
Water saving technology
Sleek modern design
Durable construction
Cons
Flushing could be powerful
Quick Features
Manufacturing material Ceramic
Single flushing
119 lbs weight
Slow closing seat
The TOTO Aimes Washlet+ One-Piece Elongated Toilet offers a striking design, effortless cleaning, and innovative features that contribute to a cleaner and more eco-friendly bathroom.
Featuring bold and modern high-profile design, embodying TOTO's commitment to excellence in "people, planet, water.", this TOTO skirted toilet gives aesthetic appeal and offers the benefits of easy cleaning compared to traditional two-piece toilets. Thanks to the seamless design, it eliminates the gap between the tank and bowl. With no bolts or gaskets to worry about, leaks are no longer a concern.
The skirted design of the TOTO Aimes toilet adds an extra touch of elegance and sophistication. By concealing the trapway, it enhances the clean and seamless look of the toilet. The TOTO one piece toilet has TOTO's innovative Tornado Flush, a rim design with dual-nozzles that creates a powerful centrifugal washing action for efficient rinsing of the bowl.
This version of the TOTO Aimes also includes Cefiontect, an exceptionally smooth glaze that prevents particles from sticking to the ceramic surface. Paired with the Tornado Flush, this feature reduces the frequency of toilet cleanings and saves you time, water, and the use of harsh chemicals.
It is designed with TOTO's universal height, providing a comfortable seat position for a wide range of users. It offers TOTO T40 Washlet+ compatibility for seamless integration when you're ready to upgrade. The Washlet+ Toilets feature a concealed channel on the bowl surface to hide the supply line and power cord for a sleek and uncluttered appearance.
Installation is versatile, as it comes ready for a 12-inch rough-in. However, with the separately sold adapter, it can be adapted for a 10-inch or 14-inch rough-in, ensuring flexibility to suit your bathroom's requirements. Rest assured that the TOTO Aimes is ADA compliant, meeting the highest standards of accessibility. It is also certified by EPA WaterSense, as well as California's CEC and CalGreen requirements, guaranteeing optimal water efficiency.
Completing the package, the TOTO Aimes features a left-hand chrome trip lever and includes a TOTO Soft Close seat. Enjoy a gentle and quiet closing of the toilet seat, eliminating any slamming noises and adding an extra layer of convenience to your bathroom experience.
Pros
Excellent CeFIONtect glaze
Powerful Tornado flush system
One-piece skirted design
Comes with Soft close seat
One year limited warranty
What is The Difference Between A Skirted And Concealed Trapway?
A skirted toilet is a specific type with a concealed trapway design. It features a smooth ceramic surface that covers the trapway, resulting in a sleek and streamlined appearance.
A concealed trapway is a broader term that encompasses any toilet design where the trapway is hidden, which may include skirted toilets and other toilet models with alternative methods of concealing the trapway.
Skirted vs Non-skirted toilets
This simplified comparison table will help you understanding the features and differences between skirted toilets and non-skirted toilets.
| | |
| --- | --- |
| Skirted Toilets | Non-Skirted Toilets |
| Sleek and modern appearance | Varied design options |
| Concealed trapway for a smooth exterior | Exposed trapway |
| Easier to clean with no hidden curves | Need more effort for cleaning |
| Enhanced aesthetics | Easier installation for DIY enthusiasts |
| Potential for improved hygiene | Traditional and familiar appearance |
| Comes with advanced flushing technologies | Wider range of pricing options |
| Need professional installation | Budget-friendly |
Buying Guide: Choosing the Right Skirted Toilet for Your Bathroom
When shopping for a skirted toilet, it's essential to consider various features to ensure you make the right decision. This buying guide will help you find the perfect skirted toilet for your needs:
Look for a toilet with a skirted design, as it offers a sleek and modern appearance with a concealed trapway. This feature enhances aesthetics and makes cleaning easier by eliminating hidden curves and crevices.
Look for advanced flushing technologies such as dual-flush options or efficient water jets. These features promote water efficiency while maintaining excellent flushing performance.
Consider toilets with smooth surfaces, rimless bowls, or special coatings (such as Cefiontect) that prevent particles from adhering. These qualities simplify cleaning and reduce the need for harsh chemicals.
Choose a toilet with a comfortable seating height, often called "comfort height" or "chair height." Such toilets are slightly taller than standard models, providing ease of use, especially for individuals with mobility issues.
Decide between an elongated or round-front bowl shape based on your bathroom size.
Elongated bowls offer additional comfort and are ideal for larger bathrooms, while round-front bowls are space-saving options for smaller bathrooms.
Round-front skirted toilets are generally a better choice for small bathrooms due to their compact footprint. They save space while still offering comfort and functionality.
Elongated skirted toilets are more suitable for larger bathrooms with ample space to accommodate their elongated shape.
Installation and Compatibility
Check if your skirted toilet has an easy installation process or features compatibility with additional accessories like bidet seats or washlets.
Ensure that the toilet you select fits your bathroom's rough-in size (the distance between the wall and the toilet's centerline).
Consider reputable brands known for their quality and reliability. Research customer reviews and ratings to gauge the overall satisfaction and performance of the skirted toilets you are considering.
Final words
Finding the best skirted toilet for your needs is time-consuming, but it will be severe for a long time. Consider the following key factors: design, ease of cleaning, flushing performance, comfort height, and overall durability. Assess your specific requirements, such as bathroom size and personal preferences, to narrow your choices. Additionally, read customer reviews and compare brands to gauge their reputation and reliability.
Frequently Asked Questions (FAQs)
Are skirted toilets more prone to clogging compared to non-skirted toilets?
No, skirted toilets are not inherently more prone to clogging. The flushing performance and clog resistance depend on the toilet's specific design and flushing system rather than whether it is skirted or non-skirted.
Can I use any toilet seat with a skirted toilet?
Yes, you can use any standard toilet seat with a skirted toilet. It is better to check the manufacturer's guidelines to ensure compatibility and proper fit.
What are the benefits of a concealed trapway in a skirted toilet?
The concealed trapway in a skirted toilet enhances the toilet's aesthetic appeal by providing a sleek and streamlined appearance. It eliminates the need to clean hard-to-reach areas around the exterior trapway to make maintenance and cleaning more convenient. The concealed trapway also minimizes the accumulation of dirt and debris.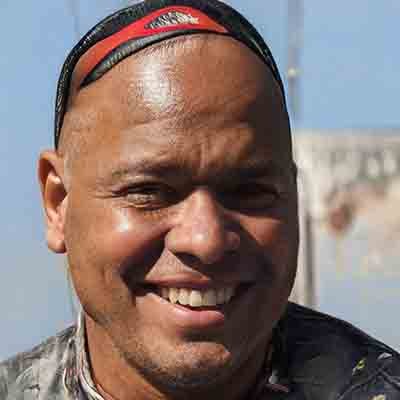 Russel Clark is a plumbing specialist who stumbled into the world of pipes and fixtures with a relentless passion for the trade. My journey into plumbing was unexpected, sparked by a deep-seated curiosity and a desire to make a real difference in people's lives.
I started as a plumbing helper, where I found myself learning the ropes from experienced plumbers who generously shared their knowledge. Here, I discovered my true calling and fell head over heels for the art and science of plumbing.
I vividly recall my early days, armed with a toolbox and eager to soak up every plumbing wisdom I could find. I embraced the challenges that came my way, from learning to decipher the intricate maze of pipes beneath our feet to mastering the inner workings of toilets, sinks, and showers.
Plumbing, I soon realized, is not just about pipes and wrenches; it's about ensuring the comfort, safety, and well-being of every home and business. It's about being the unsung hero who swoops in to save the day when leaks and clogs threaten to disrupt daily life.
Throughout my journey, I've encountered a myriad of plumbing puzzles – from burst pipes in the dead of winter to toilets that seemed to have a mind of their own. With each challenge, I've honed my skills, learning to think on my feet and find creative solutions to even the trickiest of problems.
Now, with years of hands-on experience, I'm thrilled to share my expertise and passion with you through the blog toiletsadviser.com/. Whether you're a fellow plumbing enthusiast or someone in dire need of plumbing guidance, I'm here to lend a helping hand.