Best Strong Flushing Toilets 2023 [Most High Powerful Flush]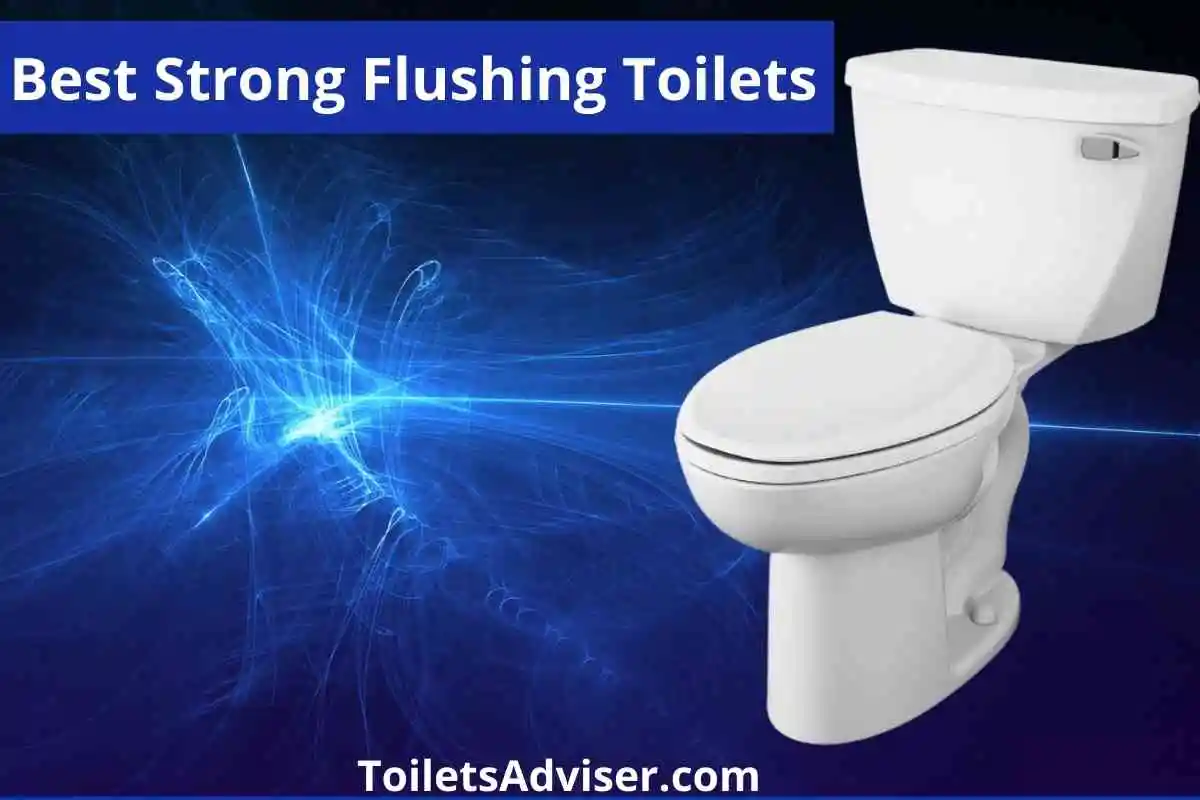 All toilets look the same, but when it comes to performance, there are significant differences between all of them. All toilets are not made for the same purpose, that's why you need to select the right one for your needs. For instance, the best strong flushing toilets are specially created to flush away large waste and prevent clogging issues.
From flushing and technology to design, everything matters, and you can't deny the importance of any aspect while looking for strong flushing toilets. Long story short, after reviewing a wide range of toilets, comparing features, and reading user reviews, these high quality toilets with powerful flushing got our attention.
Best Strong Flushing Toilets- Most Powerful Flushing Toilets For 2023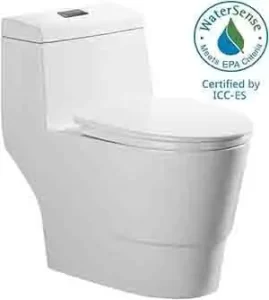 Quick Features
Manufacturing material Porcelain
Flushing technology Dual Flushing
Installation method Floor mounted
Toilet shape Elongated
The combination of elegant craftsmanship with high quality construction provides the best in contemporary styling and functionality. This luxurious modern, one piece toilet by WOODBRIDGE comes with powerful flushing technology. The best part of strong flushing is that it is super quiet; thanks to the fully glazed flush system. Equipped with dual flush technology, this durable toilet takes 1.0 gpf for partial and 1.6 gpf for full flush. You can easily reduce water bills by saving a decent amount of water with this water saving technology.
Featuring a comfortable height design, WOODBRIDGE T-0019 makes sitting ultra convenient for the elderly, adults, and tall persons. There is a high end soft closing seat featuring durable stainless steel hinges for easy installation. Also, you can get quickly remove the toilet seat for cleaning. The flush score of this powerful flushing toilet is 1000 grams which makes it a perfect match for removing large waste.
The high quality skirted trapway creates an elegant, sleek appearance and makes cleaning effortless. With a fully concealed trap-way, the toilet doesn't have bends or corners to collect dust. Additionally, there are no large mounting holes or nasty plastic caps which affect the appearance of the toilet. The package includes high quality wax ring, pre installed soft closing toilet seat, floor bolts, a special hand wrench, and installation instructions.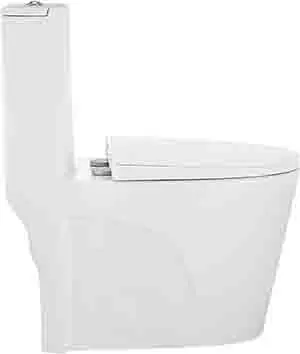 Quick Features
Manufacturing material Ceramic
Flushing technology Dual Flushing
Installation method Floor mounted
Toilet shape Elongated
The ST Tropez one piece elongated toilet offers a sleek eye appealing, seamless design with a powerful flushing system. Manufactured from durable ceramic material, the toilet comes with a dual flush system to choose between partial (0.8 gpf) and full (1.28 gpf). The clean, modern design is a perfect fit for modern bathrooms. This toilet has a tall height, but still, it's quite compact. It has a slimline tank which makes a decent choice for small bathrooms.
Thanks to the low closing comfortable toilet seat, the toilet eliminates the loud toilet seat slams on cold, silent nights. Also, this feature makes it safe for young and elderly users. This quick release toilet seat has durable quick-release chrome hinges to remove and reattach the seat after cleaning without using any tools. One excellent feature of Swiss Madison SM-1T254 is the Vortex flush technology addition which has powerful dual noses that keeps the elongated bowl clean as compared to standard rim holes.
Overall, the toilet is easy to clean with convenient to remove the toilet seat. Equipped with a fully skirted trapway, there are no clogging or leaking issues. There are special holes added to reach the bolts for easy installation. Other essential features include a wax ring; one year limited warranty, and necessary installation hardware.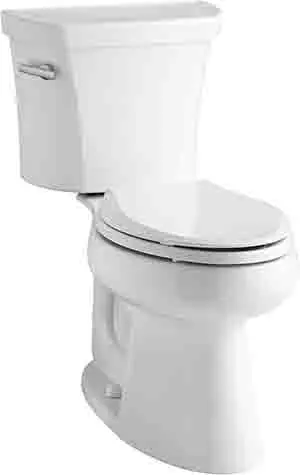 Quick Features
Manufacturing material Vitreous China
Flushing technology Single Flush
Installation method Floor mounted
Toilet shape Elongated
One of the best toilet brands on the market, Kohler is known for producing high quality bathroom products. The Highline is a bright example of their premier toilets offered in different heights and rough in options. With a clean and simple design, this best strong flushing toilet is an excellent combination of style and performance. An innovative 1.28 gallons per flush provides a powerful flushing performance and also helps to save water.
Featuring a comfortable elongated chair-like toilet seat, Kohler K-3999-0 provides optimum comfort for users, especially elderly persons. The comfort height makes sitting down and standing up convenient. With 12 inches rough in, the smooth flushing actuation, along with consistent water usage, keeps the toilet bowl clean.
One of the best features of this Kohler strong flushing toilet is its canister flush valve pack that delivers a powerful punch to eliminate irritating clogs without wasting water. For additional convenience, the manufacturer has added a standard left hand polish chrome trip lever. Installation is super convenient with only three pre installed bolt installation methods. Last but not least, Kohler is offering one year limited warranty for K-3999-0.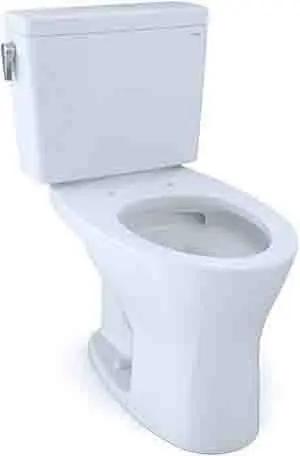 Quick features
Manufacturing material Vitreous China
Flushing technology Dual Flushing
Installation method Floor mounted
Toilet shape Elongated
TOTO is popular for its simple yet effective bathroom solutions. This new, improved Drake dual flush toilet is created with high quality materials to ensure durability and longevity. Equipped with Dynamax Tornado flushing technology, the toilet is a perfect option for both residential and commercial use. It combines ideal bowl cleaning and waste evacuation utilizing water that is totally projected from the rim, creating 360 degree cleaning power.
Such cleaning power ensures maximum cleanliness to keep your toilet clean with minimum effort. Thanks to the excellent CeFiontect Glaze, it keeps the toilet super smooth and helps to keep waste from clinging inside the elongated bowl. Manufactured from vitreous china, the toilet has excellent durability and offers stain resistant properties.
One unique benefit of the improved bowl design is that it reduces water flow resistance to provide ultra quiet flushing. Additionally, there is a chrome plated trip lever available on the left side. The toilet uses partial (0.8 gpf) and full (1.28 gpf) water for flushing and can also operate on as low as 8 Psi. This Drake toilet comes ready for installation into a 12 inches rough in. Other essential features include one year limited warranty, toilet bolt caps, and bowl hardware.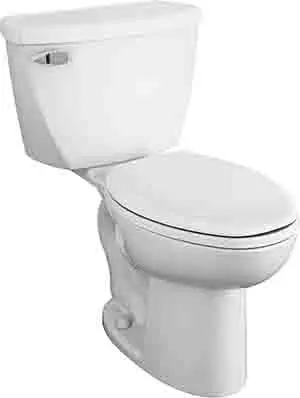 Quick Features
Manufacturing material Vitreous China
Flushing technology Single Flush
Installation method Floor mounted
Toilet shape Elongated
If you are looking for elegant design, comfortable height, powerful flushing, and convenient use, this Cadet Pressure Assisted elongated toilet by American Standard is made for you. Offering powerful siphon jet flushing technology, the toilet completely clears the bowl in one flush. Equipped with an EverClean surface to inhibit stain and odor growth that cause mildew, the toilet keeps the bathroom atmosphere clean and fresh.
There is a chrome plated metal trip lever available on the left side for quick flushing. The system also has a permanent glaze additive right into its circulation piping to protect the pipes from algae, mildew, mold, and fungus that could stain pipes. Another standout feature is its comfort height which helps easy sitting and standing for both adults and elderly persons.
Installation is super easy with proper instructions provided in the user guide. This pressure assisted toilet for strong flushing has easy to clean surface, and you can maintain a shiny appearance with minimum effort. There is no seat included in the package, and you have to buy it separately. The package is delivered with a trip lever and bolt caps for installation.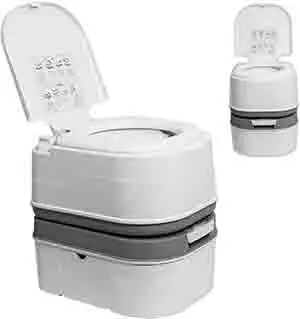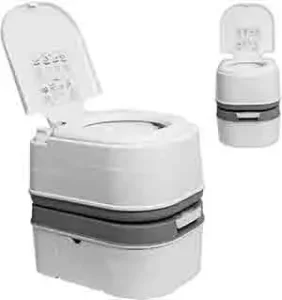 Quick Features
Manufacturing material Plastic
Flushing technology Single Flush
Installation method Floor mounted
Toilet shape Round
This portable toilet with strong flushing is made for traveling and camping needs. Featuring a compact size, the toilet takes up small space in your car trunk, and the lightweight allows you to take it anywhere you want. There is a built-in pump added to provide a powerful cleaning flushing and remove waste quickly. This best strong flushing toilet for camping has a large 5.2 gallons water tank along with a 6.3 gallons waste tank.
When the sewage toilet tank is full, just detach the upper tank from the lower sewage tank, and the splash free rotating pour spout will help you to empty this portable toilet quickly without spilling. For additional convenience, there is a hose for easy dumping and emptying of the tank.
Made with high density polyethylene, this durable material makes the toilet leak proof. Also, the tight sealing value ensures the waste doesn't leak from the tank and stops odor from coming out. If you want aromatic air, you can easily add liquid chemicals into the fresh water tank. This RV toilet also has a home-like seat and a lid for additional comfort. Overall, the traveling toilet is durable, lightweight, and easy to clean, with no installation required.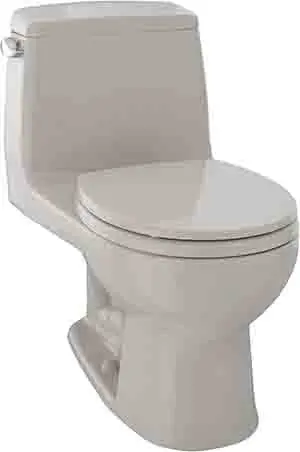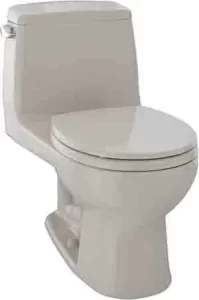 Quick Features
Manufacturing material Plastic & Vitreous China
Flushing technology Single Flush
Installation method Floor mounted
Toilet shape Round
The TOTO Eco UltraMax toilet is a bright example of its flawless craftsmanship. The one piece design comes with a super sleek appearance that improves the appearance of your bathroom. One excellent benefit of the design is that there is no gap between the bowl and the tank, so there are fewer chances of dirt and debris building up. Also, there are no threats of leakage from bolts or gaskets, which is common with two piece toilets.
When it comes to flush, TOTO MS853113E#03 is one of the best strong flushing toilets available on the market, thanks to its powerful E-Max flushing system. This flushing system features a large trapway, an extra large siphon jet, and a 3 inches wide flush valve. The reliable, highly efficient combination creates a powerful cleansing flush while using only 1.28 gallons of water. The TOTO Eco Ultra Max also comes with a left-hand chrome trip lever.
Featuring a Soft closing, durable plastic seat, the toilet doesn't produce loud seat slams on cold and quiet winter nights. If you have kids in your home, this soft closing seat toilet with powerful flushing is a perfect fit for your needs. The seat and the lid also have a built-in SoftClose hinges system which helps to lower the seat down gently and quietly. For convenient installation, the manufacturer has added top tightening mounting bolts.
How To Find The Right Toilet With Powerful Flushing- The Buying Guide
Choosing a reliable toilet with a powerful flush mainly depends on your personal preference. However, the following essential factors can help to make the right decision.
The first and most important factor to consider is the flushing technology of the toilet. Whether you are choosing a smart toilet or a modern toilet, most of them have the following flushing mechanisms.
Pressure assisted toilets
Such toilets come with a pressure tank inside the water tank of the unit that improves the water pressure that drains into the bowl. You may like the efficient cleaning power, but pressure assisted toilets are noisy and may have some maintenance problems.
A toilet with a gravity flush system stores water in the tank and takes benefit of gravity to create a decent flushing pressure that drains the water from the tank to the toilet bowl and tray way. The prime benefit of these toilets is that they are convenient to maintain.
Double cyclone flushing toilets
This flushing system is commonly used in TOTO toilets. One of the main benefits of these toilets is that they use only 1.28 gallons per flush and also have pressure assisted features. However, double cyclone toilets have two nozzles compared to standard rim holes linked with other flushing systems.
Perhaps the most common and popular type of flushing technology used in modern toilets, dual flushing is getting incredibly famous for its versatility. This mechanism allows selecting between full flush and partial flush. You can choose from 1.1 gpf and 1.6 gpf flush, depending on your needs.
Typically, a partial flush is used for flushing small or liquid waste, whereas a full flush is ideal for removing large waste from the toilet bowl.
Toilet installation style
Powerful flushing toilets are available in different styles, including one piece and two piece designs.
As the name suggests, these types of toilets have fused toilet bowls and tanks. This creates a sleek and seamless design that is visually appealing. One piece toilets are compact and help to save space in your bathroom. However, these toilets are hard to move and slightly expensive.
Two piece toilets provide the most powerful flushing that comes in two separate parts. The toilet tank is detached from the bowl and base. You have to join all parts of the toilet during installation. A two piece toilet is more affordable than one piece toilet. You can easily transport them, and above all, all parts are available on the market.
The downside of two piece toilets is that the cracks are difficult to clean.
Toilet height is another essential factor you should consider while buying a strong flushing toilet. Typically, a standard flushing commode is 14 or 15 inches high from the ground, which is a standard height seating. You can also find toilets with between 17 to 19 inches.
Such toilets are commonly known as comfort height or tall toilets as they have additional height, which makes them comfortable and easier to sit on. Besides these benefits, a person with limited mobility should buy models with ADA certification. Typically, an ADA-certified toilet comes with 16.5 inches height which make them accessible for people with redistricted mobility.
Most people neglect the importance of a toilet bowl when buying a new toilet. Remember, the toilet bowl shape is an essential feature that should be considered when purchasing a strong flushing toilet.
Toilets are available in two bowl shapes.
Elongated toilets are common nowadays. These toilets have a few inches deeper shape and offer a comfortable sitting experience, thanks to the elongated seat. Such toilets also come with large rough-in to accommodate their increased depth. The elongated bowl shape is commonly available in one piece, two piece, and wall mounted unit options.
These toilet bowls are known for their circular rims. Round bowl toilets feature a short rough-in, and they are perfect for small bathroom spaces. These bowl shapes are also available with wall mounted, one piece toilets, and two piece toilets.
The manufacturing material of a toilet has a significant impact on its quality. A powerful flushing toilet manufactured from ceramic material is more fragile than one made from vitreous china. There is a toilet available with an ever-clean surface that doesn't easily get skid marks. Commonly, high-end toilets and the best strong flushing toilets are manufactured with high-end materials.
If you are installing a toilet next to the baby's nursery or your bedroom, the noise level is a critical factor for you. You can easily estimate the noise level of a toilet based on the flushing system. For instance, gravity flushing toilets have the best quiet flushing toilets available on the market. There are some toilets with special fill valves to reduce the noise level of flushing.
Don't forget to check the soft lid closure to prevent loud toilet seat slams.
Selecting a toilet color depends on your personal preferences. You can choose from different colors according to your bathroom style. It is recommended to check your bathroom design before making a decision. For instance, a sleek toilet won't fit in an old rustic bathroom. Toilets are commonly available in white, off white, black, gray, yellow, and tan colors.
Final words
A good toilet is the prime component of every bathroom. Besides attractive appearance, there are different aspects and functions that should be considered when choosing the best toilet for your bathroom, including flushing system, toilet height, durability, and size. Remember, all toilets are not the same, and you have to find the right match for your needs. The best to do this is by making a list of your requirements, budget, and bathroom size before purchasing a powerful flushing toilet.
Frequently Asked Questions (FAQs)
Single vs. dual flush toilet, which is better?
A single flush toilet is easy to operate as the flush rate is 1.28 gpf. On the other hand, a dual flush toilet has two options, including a partial flush (up to .8 gpf) for small or liquid waste and a full flush (1.6 gpf) for solid or large waste. If you are dealing with liquid waste, a single flush toilet is better for you, and a dual flush toilet is best for large waste removal.
Does porcelain toilet stain?
Hard water cause damage to toilets and sinks and may leave ugly stains that are hard to remove. A porcelain toilet gets hard water stains and can be damaged with consistent hard water usage.
Why is my toilet not flushing strongly?
Typically, toilets lack flushing power due to the siphon jet, waste pipe, clogged rim jets, or the water level of the toilet bowl or tank being too low. It is advised to solve these issues to make your toilet flush strongly.